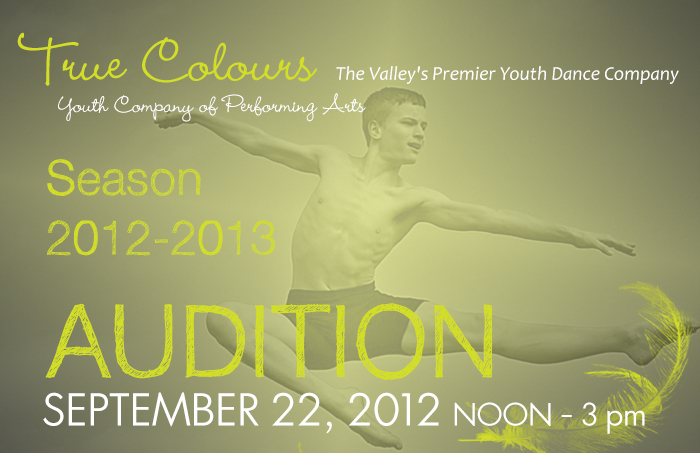 Dear family and friends,
First off, we like to take this opportunity to thank everyone for making the last 6 years truly amazing. The success of True Colours is due to the energy and support of our talented dancers, committed parents, generous sponsors and the Making Opportunities Matter Society (M.O.M.S.).
Most of you are well aware of all the exciting things that have been happening with the recent purchase of Gemini by Triple Heat Dance. As new business owners and artistic directors, alongside the M.O.M.S. Board of Directors, we feel it's important not to overextend ourselves in order to grow both Triple Heat Dance and True Colours into the best possible training programs available. With that being said, there are some inspiring new changes as we head into the 7th season of True Colours.
These changes will include:
The 2012/2013 season is dedicated to training & education in order to allow the company time to grow technically, and rejuvenate energy.
The company will be divided into two levels – Intermediate (11-13yrs) and Advanced (14+)
Required commitment will now be once a month with company workshops / choreography occurring on the second Saturday of each month with renowned guest teachers brought in from Vancouver Island, the Mainland and beyond.
A lighter season means there will be a lower financial commitment for dancers and their families.
There will be no True Colours performance at the Sid Williams this season, however each level will receive performance opportunities at various events throughout the year.
Field Trips – opportunities to travel as a team to various performances by professional companies. Performances we hope to attend are:

November 17th – Le Ballet Jazz de Montreal at the Royal Theatre in Victoria
December 15th – The Royal Winnipeg Ballet's Nutcracker in Vancouver
April 6th – Billy Elliot in Vancouver
We feel these changes will benefit all involved, from dancers, parents and artistic staff and we look forward to an exciting audition where we can meet the prospective company members and provide you with a question & answer information period.
True Colours Audition Schedule for Saturday September 22nd
Intermediate Audition: 12:00-1:15pm
Advanced Audition: 1:30-2:45pm
Information Session: 3:00-3:30pm
We again thank you for your support and we look forward to seeing many of you this weekend.
Sincerely,
Livea Gill & Michelle Henly